IWR – A Strong, Vital Network for SME
The members of the International Economic Association (Internationaler Wirtschaftsrat e.V., IWR) operate in national and international markets. They aim to expand their competencies in doing business abroad or accessing new markets.  As a community, the members support each other in achieving objectives by providing their specific expertise where it is needed. Together, they are opening doors  for small and medium sized enterprises to markets abroad.
The members of IWR esteem the socio-economic advantages of the social market economy in contrast to other economic systems. Therefore, they advocate for its protection and further development. An integral part of this self-understanding is IWR's membership in the United Nations Global Compact. As a community IWR committed itself to the Global Compact's universal principles of protecting the environment and human rights. IWR expects its members to recognize and implement the universal principles for their business as well.
Advantages and Benefits
By becoming a member of IWR, you are accessing an extensive network to other businesses, associations, institutions and politics. Within this network, you will be able to obtain qualified answers to individual questions and high-quality contacts. IWR is the only economic association in Germany which is consistently committed to reducing barriers to accessing procurement markets of international organizations. We invite you to access these highly attractive markets together. International organizations such as the United Nations are an attractive long-term business partner.
Becoming a Member
Can you identify with the objectives of IWR and are you ready to actively participate in its dynamically growing network? Then we look forward to your application for membership. Below you will find all important documents for this process. The completed forms can be sent to us by fax or postal services. The Management Board will contact you as soon as possible. We look forward to welcoming you to our community!
What criteria should be met?
Your business…
…generates more than EUR 1 million in sales annually,
…is a manufacturing, trading or service company,
…already exports or invests successfully to/in foreign markets or would like to expand its business activities abroad,
…is ready to contribute a monthly membership fee of 75 euros and
…has an entrepreneurial personality.
The future of your company is based on the decisions you make today. IWR is a reliable partner who accompanies you on your way to a successful international business.
Further Information and Membership Application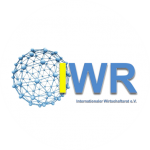 The Board of Directors and the IWR-Secretariat are looking forward to hearing from you. Please do not hesitate to contact us in case of any questions. In the structure section you will find the necessary contact details.