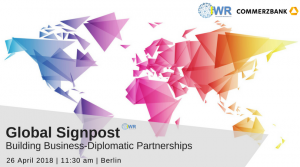 By bringing together successful German companies and to business development committed diplomats, the event series "Global Signpost" aims to enlighten economic cooperation between our countries. Reliable and trustful partnerships but also first hand insights into markets are essential to develop new projects. You are cordially invited to the next lunch event for the business and diplomatic communities organized by Internationaler Wirtschaftsrat e. V. (IWR) and Commerzbank Embassy Banking.
26th April 2018
11:30 am
Haus der Commerzbank
Pariser Platz 1
10117 Berlin
The partner country of this event will be Rwanda and we are privileged to welcome H. E. Igor Cesar, Ambassador of the Republic of Rwanda to Germany, who shall speak about the support structures, offered for international investors and the importance of regional integration. We are honored that Mr Andreas Lämmel, MP (German Federal Parliament) and Chairperson of CDU/CSU parliamentary workgroup on Africa will be the political patron of the event. Mr. Lämmel shall describe the political direction in the economic cooperation between Germany and East Africa.
Valuable first hand insights into the Rwandan market shall be provided by Mr Armin Burckhardt, who is Managing Director of Strawtec, a dynamic supplier of eco-friendly building solutions for affordable housing "Made in Rwanda". Mr. Burckhardt shall give pointers on how to work effectively in the Rwandan business environment.
We are looking forward to welcoming you to an enlightening discussion and to establishing fruitful new contacts between business persons and diplomats. We would kindly request that you RSVP online by 13th April 2018.
[wrc_column grid="3″ width="1″ type="start"]  [/wrc_column][wrc_column grid="3″ width="1″]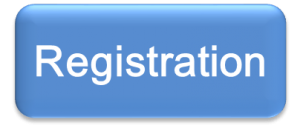 [/wrc_column][wrc_column grid="3″ width="1″ type="end"]  [/wrc_column]
Event Programme
10:45 am
Registration
11:30 am
Welcoming Notes by Internationaler Wirtschaftsrat e. V. and Commerzbank Embassy Banking
11:40 am
Political Keynote: Strengthening the Economic Cooperation with East Africa
Mr Andreas Lämmel, Member of the German Federal Parliament and Board Member of Deutsche Afrika Stiftung e.V.
12:00 pm
Diplomatic Keynote: Support Structures for Business Development in Rwanda and the
Importance of Regional Integration
H.E. Igor Cesar, Ambassador of the Republic of Rwanda to Germany
12:20 pm
Business Insights from a German Investment Project
Mr Armin Burckhardt, Managing Director, STRAWTEC Building Solutions Ltd., Kigali
12:40 pm
Q&A
13:10 pm
Light Lunch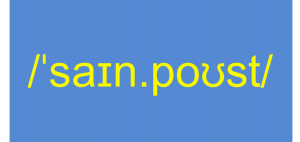 IWR's Global Signpost is an event series that aims to build reliable and trustful contacts between the business and the diplomatic communities to deepen the economic relations between our countries. Each event features a specific country and provides first hand insights into its market environment. Additionally, a political patron completes the picture by pointing out the political trends in economic cooperation.